Formal Wear Rentals and Purchases For All Occasions
Welcome to Gallelli, the best place to be when you need to look your best with a formal wear rental or purchase. We have everything you need for all of life's special events, both social and professional occasions. Conveniently located in Northeast Philadelphia, PA, we're ready to take your measurements and give you a formal wear rental that's worthy of your once-in-a-lifetime event, such as a Bar Mitzvah, prom, wedding, or other formal occasion. Here are the particular wardrobe items we can help you with:
The pinnacle of formal fashion, your options for tuxedos range from timelessly classic to strikingly contemporary. When you choose a tuxedo from Gallelli as your formal wear rental, you'll also get the matching accessories you need to look your best, which may include:
Matching trousers
A matching collared shirt
A matching tie and sash (we recommend a bow tie)
Studs and cufflinks for the shirt
Brands include Ralph Lauren, Giancarlo Romano, Jean Ives, Lord West, and more.
Vests
We carry multiple collections of vests, the best way to complement a shirt and tie, with styles for any occasion or fashion tastes:
Tapestry Collection
Palermo Collection
Luxury Herringbone Collection
Premier Solid Satin Collection
Renaissance Vest
Solid Vests
Venetian Collection
Suits
If you're attending an event calling for attire that's formal but not quite as ostentatious as a tuxedo, a suit is the perfect compromise. Suits from Jean Yves, Allure, and Perry Ellis can help you stand out without appearing too showy.
Shirts
Without the right shirt, your formal wear ensemble is fundamentally flawed. Fortunately, we have shirts in your choice of colors (including white, ivory, and black) and collar styles (wing or laydown). For a black tuxedo, we always suggest a white shirt for the maximum color contrast.
Shoes
No matter how stylish your tuxedo or suit is, the wrong shoes can throw your entire outfit out of whack. Whether you want shoes with solid colors or black with white wing tips (a color pattern and combination that is perfect for tuxedos), your feet will be yards ahead of the competition. Formal pumps, Albert Slippers, and Brogues are all popular choices to accompany a tuxedo, and our collection is extensive enough to guarantee that you'll find a pair of shoes that's just right for you in terms of style and comfort.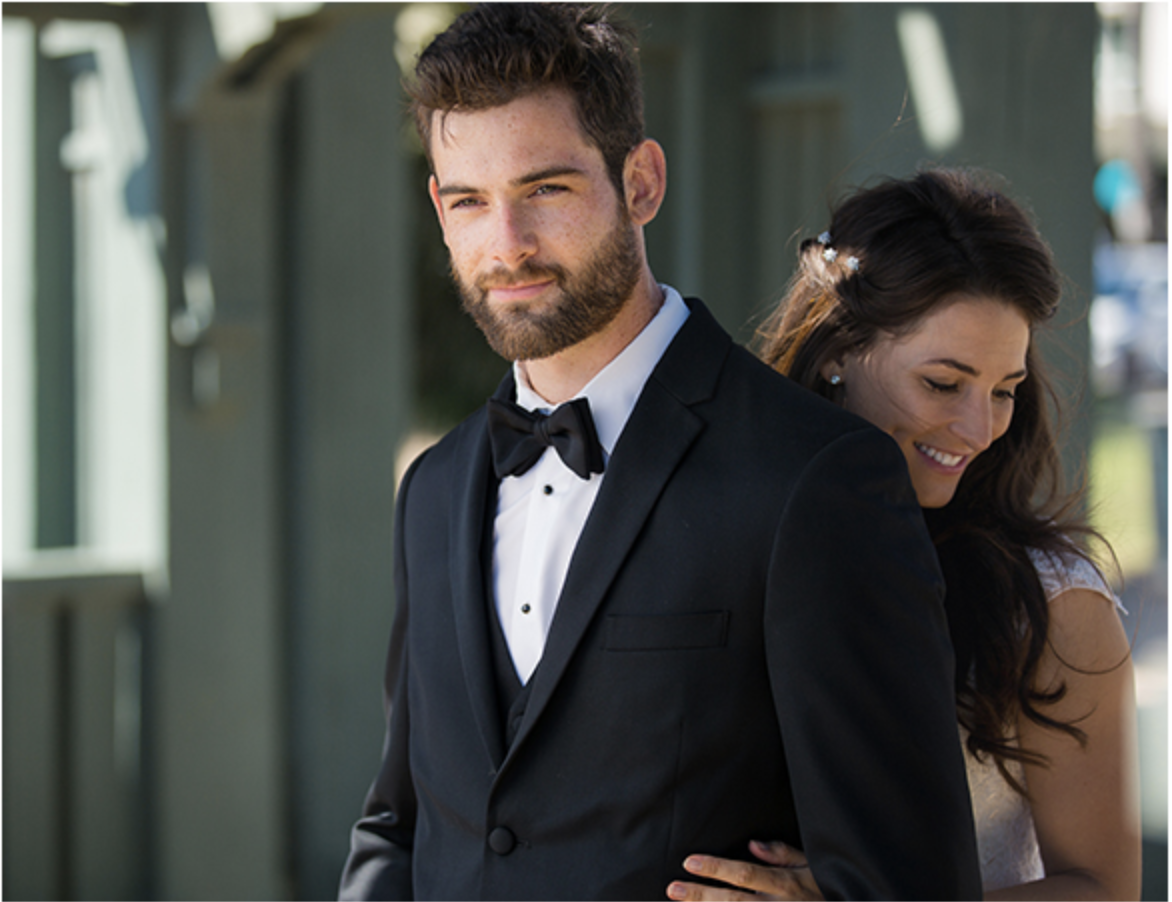 Getting the Perfect Fit
Although visiting our store in person is the best way to get a personalized fitting for your formal wear rental, it's not mandatory. If you need to get us your measurements but for some reason aren't able to visit our Northeast Philadelphia, PA location, we offer you a convenient alternative: Send us your measurements electronically. Or, you can print out a measurement form, which can be used by a professional tailor, men's clothing store, or formal wear specialist in your area to ensure you get all the measurements you need.
Formal Wear Rental With an Eye For Detail
Whether you choose to buy or rent from us, we'll help you look your best with our decades of fashion expertise. Contact us today!