A man's style says a lot about him. Whether you're in touch with the latest trends in men's fashion, or you're just dabbling into this luxurious presentation, the one component you should never disregard is your shoes. After investing in a stylish suit or black tuxedo in Northeast Philadelphia, you'll want to complete your lavish attire with some swanky kicks.
The trick with dress shoes is to get versatile footwear that will complement other pieces in your wardrobe. Take a look at your current collection, if your shoes are outdated and worn out, it may be time to up your shoe game. Take a look at the infographic below to see which color suits pair well with the trendy shoes we'll discuss further below: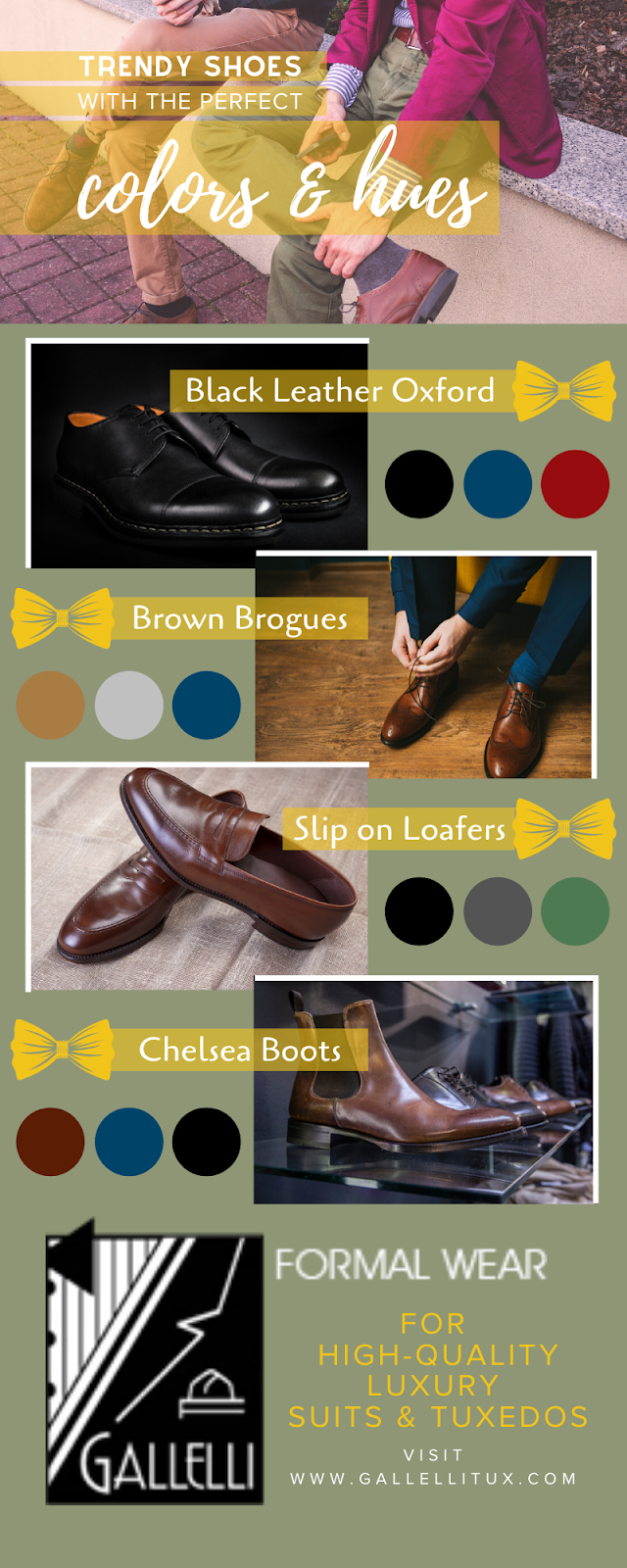 Black Leather Oxford
If you only had one pair of dress shoes in your wardrobe — although, we hope you don't — black leather oxfords should be your go-to. These classic dress shoes are best worn with business or professional attire and are more suitable for formal events.
Brown Brogues
Brown brogues are a slightly less formal version of classic leather oxfords. They're a great option for contemporary men and are a hit at various formal events. They give off a distinctive character and extremely versatile.
Slip-On Loafers or Monks
Loafers and monks are a great piece to have in your wardrobe — not only for their ease of wear, but for their unique style, too. Loafers do not have laces or straps, but their casual look is still paired with elegant menswear. Monk slip-ons have a very classic style, with a single or double strap closure.
Chelsea Boot
These chic modern boots feature clean lines and a relaxed fit. Whether leather or suede, Chelsea boots are perfect for casual and formalwear. Because of its slim profile, these boots look great with slim-cut trousers.
These classic shoes are a staple in men's fashion and complement various looks. These shoes are suitable for all your favorite looks. Create unique outfit combinations or rock a burgundy tuxedo in Northeast Philadelphia — either way, you'll have the shoes to pair with every outfit.
If you're in need of men's formalwear, such as suits, tuxedos, vests, and accessories, continue to browse our website!