Proudly regarded as the classic suit's formal cousin, a three-piece suit comes with its own unique set of rules and expectations. As you might have guessed, the distinguishing feature to a three-piece suit is the inclusion of a vest, sometimes referred to as a waistcoat. This element is sometimes a source of trepidation to the gentlemen out there who are comfortable with the familiar two-piece option yet are a bit perplexed by the etiquette thrust upon them with this additional garment.
Once armed with some basic knowledge, determining when and how to wear a three-piece suit can be a more straightforward affair. First and foremost, let's lay some ground rules. Check out this infographic for some stipulations when it comes to wearing a three-piece suit, then continue reading to learn more about settings and occasions that greenlight you to dress to the nines (with that extra piece).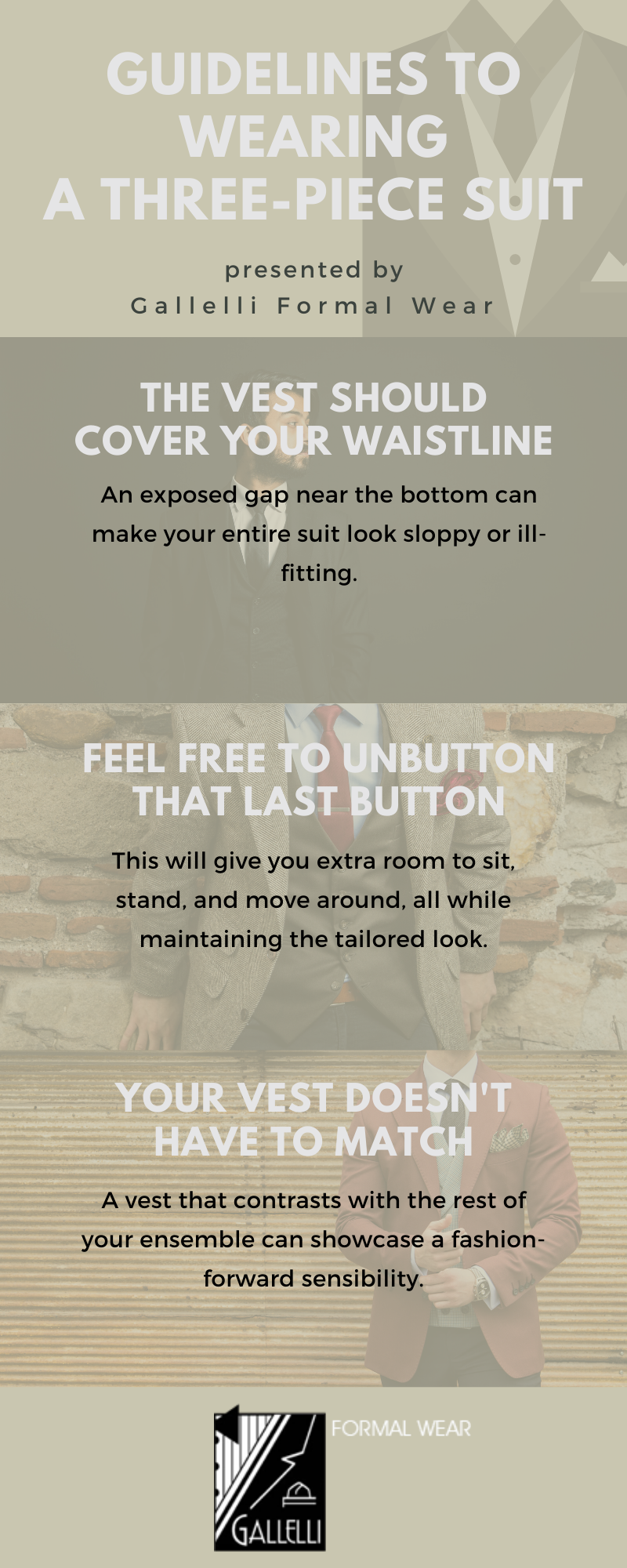 Occasions for the Gentleman's Ensemble
When you throw on the vest, you're assuming a fashion tradition that has always sat at the forefront of style, as admired by modern gentlemen as it was by seventeenth-century royalty. This look showcases a rich history and displays a sense of authority, which is critical to keep in mind when trying to look your best. Let's take a look at some suggested scenarios for wearing a three-piece suit:
Diamond Rings Are Forever
Whether you're a guest, groomsman, or the groom, weddings are an excellent occasion to wear your best three-piece suit. That said, you still have to consider the context! If the wedding is on a sandy beach during the hot summer month, it's probably best to leave the three-piece suit at home and opt for something a bit more breathable. But in general, there are virtually limitless combinations of colors and patterns you can incorporate into your ensemble that will ensure you stand out from the crowd on this momentous day.
Corporate Royale
A three-piece suit is a welcome sight at the office for many professions, including law, finance, government, and business — especially if you are in a senior management position. But if you are in a less conservative work environment, or you're more entry-level, you'd run the risk of appearing overdressed. Save your three-piece suit for formal corporate occasions like presentations, formal conferences, receiving special recognition, or impressing a new client.
License to Hire
A corporate occasion doesn't have to take place long into your employment; it can be the very first step! While you could stick out like a sore thumb if it's a business casual environment, you can dress to impress if you're interviewing for an upper management role with some corporate heavy-hitters, such as the president of the company or multiple executives. This process is where the suit can help you convey authority, respect, and confidence.
Live and Let Dine
Whether you're taking a client out to dinner or you're having a romantic night out with your significant other, it's essential to dress the part. Is there an upscale new restaurant in town that you've wanted to try but could never figure out what to wear? Consider a three-piece suit to be your valet to panache.
Whether you're looking to get a classic black suit in Philadelphia or in Cherry Hill interested in a slim fit suit, contact Gallelli Formal Wear today!