As a leading rental company of wedding suits for men in Northeast Philadelphia, Gallelli Formal Wear understands the importance of apparel on a wedding day. We know that the bride-to-be's perfect white dress is not the end-all-be-all to clothing decisions for the big day, and we're here to help out! Ensuring both the groom and groomsmen look sharp will be of great importance when it comes to the ceremony, taking pictures, and, well, just about the entire wedding!
Check out this infographic to ensure the groomsmen dress to the nines, then continue reading for more information about how Gallelli Formal Wear can get you and your wedding party ready for the big day.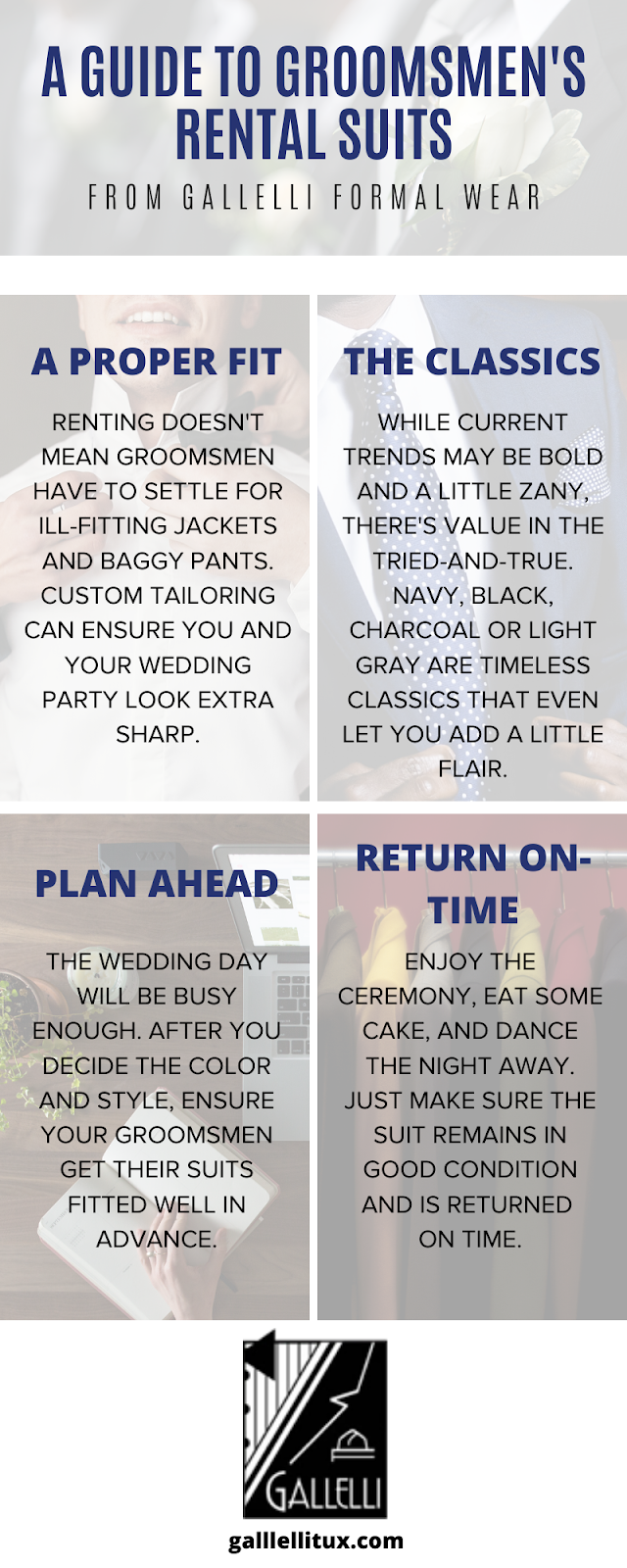 A Proper Fit
Just because your groomsmen are renting their wardrobe doesn't mean they're doomed to wear an ill-fitting suit. While slimmer fits and a more customized approach are currently trending in today's modern fashion world, grabbing a flattering rental from Gallelli Formal Wear is a piece of (wedding) cake!
To find the proper fit, remind your groomsmen that the shoulders of their suit jacket should be close to the body, but should not constrict movement. Sleeves should reveal a quarter to a half of an inch of their shirt when their arms are at the side. The pant legs should be close to the body, with about one inch of a break. Encourage the groomsmen to meet with a professional who can custom tailor their suit for them instead of plucking off the rack and calling it a day.
The Tried-and-True; Black, Gray, or Blue
Listen up, newlyweds-to-be: consider going with the classic styles that are essentially timeless. While you may be tempted to select a current trend or wacky patterns, give your guys the chance to shine in a put-together, yet debonair, suit. Navy, black, charcoal, or light gray are all safe bets that let you throw in a little flair later on if you wish. Not only are these suits tasteful, but they'll be comfortable, and your groomsmen will feel confident standing by your side.
Plan Ahead
Don't let the task of securing groomsmen attire be privy to last-minute changes or impossible to schedule! While it's safe to assume a bride will get her dress months before the big day, the groom and groomsmen need to get their suits selected well in advance also. Once you decide on the look and style, consider having the groomsmen be fitted as a group to get it out of the way in one afternoon. Brides and grooms typically have enough on their plate as the wedding day approaches, so don't wait until the last minute!
Return On-Time
It's safe to assume groomsmen has already spent a significant amount of money on travel, lodging, gifts, etc. The last thing anyone needs is a late return fee. While everyone should enjoy the celebration to the fullest, groomsmen need to treat their rentals well and return them on time.
Gallelli Formal Wear Rentals
For more information about rentals or boys suits in and around Northeast Philadelphia, contact Gallelli Formal Wear today.